Meet 10 Influential Personal Brands Changing the Game in 2023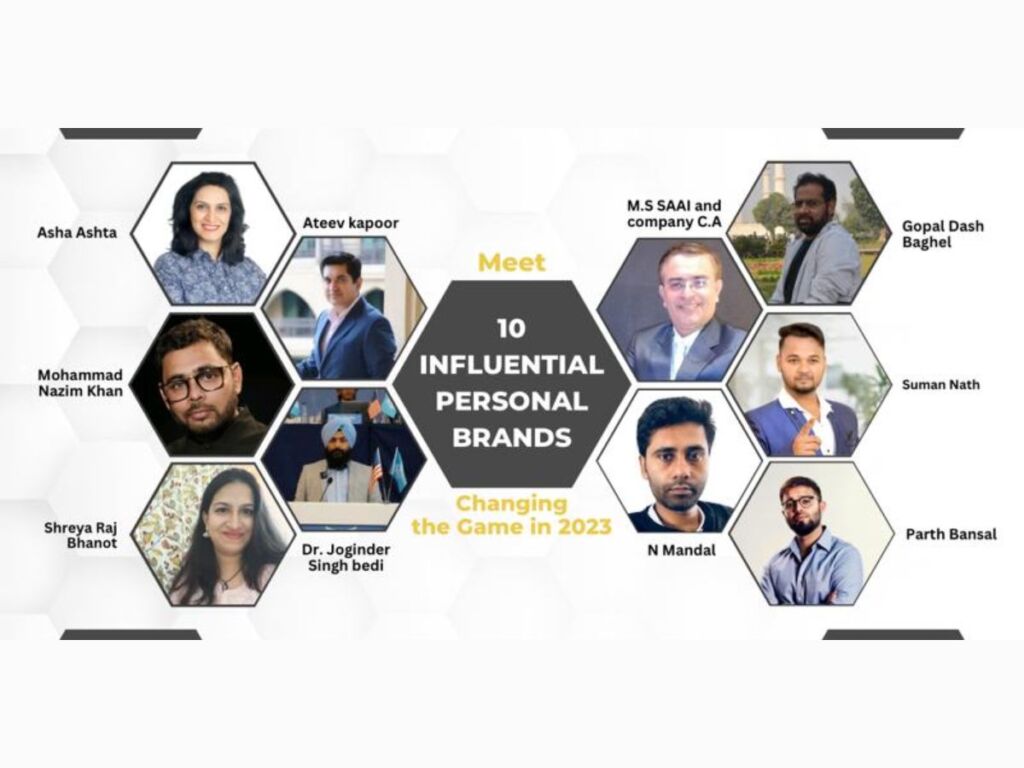 New Delhi (India), May 26: In the fast-paced and ever-evolving world of 2023, personal brands are making a significant impact and reshaping industries. These ten influential individuals have risen above the rest, leaving their mark on various sectors. From revolutionizing women's weight loss to fostering social change, from spiritual healing to knowledge expansion, these personal brands are changing the game. With their unique approaches, expertise, and unwavering dedication, they inspire and empower others, creating a ripple effect of transformation.
Join into the stories of these ten influential personal brands, discovering how they are rewriting the rules and setting new standards in their respective fields.
1) Asha Ashta
Introducing Asha Ashta, an influential personal brand *revolutionizing Women's Weight Loss*. As the Founder Chairman of *UnLOAD* and Bamboo Forest Green Tea, Asha's innovative approach *challenges the traditional Calorie Deficit Theory*. Her EAT MORE NOT LESS Meal Plans offer *delicious options like Aloo Paratha and Rajma-Rice*, emphasizing the power of full stomach holistic meals. With a *motto* of "Woman Fit, India Fit," Asha has completed 40 Weight Loss Challenges, transforming the lives of *over 12,000 women worldwide*. Her transparent and ethical methods prioritize regular home meals over unknown substances. With 7+ years of experience, Asha has helped women shed up to 20 kg in just 90 days, making her an influential force in the industry.
2) Mohammad Nazim Khan
Advocate Nazim Khan and his dedicated team at Sahulat Urban Credit Co-operative Limited are revolutionizing the social sector in Chandrapur district by offering interest-free loans.Leading organizations like Gramin Jivan Vikas Pratishthan and Crescent Shikshan Prasarak Mandal, he promotes cyber law, education, and programs on child protection. Awarded by the Ministry of Personnel and Training DOpT, his expertise in the Right to Information Act sets him apart. Advocate Khan's initiatives include summer camps, felicitation events, and cyber law awareness programs, reflecting his dedication to training and development. His leadership and impact, advocacy for empowerment, collaborative approach, inspirational mentorship, and national/international recognition make him an influential personality driving positive change.
3) Beingwell with Shreya
Shreya, professionally known as Beingwell with Shreya, is a game-changer in the realm of spiritual healing. With expertise as a Spiritual Healer, Tarot Reader, Angel Therapist, and more, she has impacted over 350 lives in just two years. Shreya's approach focuses on healing at the root level, addressing aura energies, mental health, stress, and anxiety. Unlike quick fixes, her techniques create long-term impacts, empowering individuals to face life's challenges with confidence. Notable for her outcome-driven "Ritual Healing" and impactful affirmations, Shreya's clients have witnessed remarkable psychological and neurological changes. Experience the transformative power of Shreya's influential persona, as she guides you on a journey of healing and positive transformation.
4) Ateev Kapoor
Ateev Kapoor, President and Chief Strategist at The Information Club, is a visionary influencer at the forefront of knowledge expansion. Through this dynamic Think Tank, he curates bite-sized explanations, insights, and thought-provoking ideas everyday from subject matter experts across diverse industries. With a commitment to fostering intellectual curiosity, The Information Club offers a platform for lifelong learning and community engagement. Kapoor's leadership drives the Organization's mission to empower individuals with valuable information, encouraging critical thinking and broadening perspectives. Join The Information Club on an exciting journey of enlightenment and discovery.
5) Dr. Joginder Singh Bedi
Dr. Joginder Singh Bedi is a renowned Digital Marketing Expert and Business Consultant with over 25 years of experience. Holding the distinction of being the first and only Indian with a Ph.D. in digital marketing, he has helped numerous startups and brands achieve digital growth. What sets him apart is his unique approach as a solution provider rather than a mere marketing consultant. Dr. Bedi delves deep into his clients' businesses, identifying root causes and delivering tailored solutions to enhance their brand presence. Known as "India's Digital Doctor," he uses his expertise to improve businesses' health and elevate their digital success.
6) M/S SAAI and Company C.A.
Led by visionary CA Shankar Andani, M/S SAAI and Company is transforming the auditing and consultancy landscape. With expertise in Cooperative Audit Services, Trust Audit, and Taxation, they deliver exceptional, transparent, and affordable services. Setting new industry standards, they prioritize client satisfaction and timeliness. Beyond their business success, they actively champion charitable initiatives, particularly in children's education. Recognized with 41 world records, including India Book of Record, Asia Book of Record, and International Book of Record, they have received 1481 national and international awards. As the tax consultant for Shree Sai Baba Sansthan Trust Shirdi, M/S SAAI and Company continues to redefine the game in auditing and consultancy services.
7)  N Mandal
Naresh Kumar Mandal, a remarkable personal brand, is revolutionizing the film industry and fostering the development of the film sector in Bihar. With a relentless commitment to social welfare and impactful  films, N Mandal sets himself apart from competitors with resourcefulness and unwavering passion. As an influential personality, he believes in never giving up, approaching work with honesty and dedication. N Mandal is the founder of Shivaay Productions, organizing the international "Sincine Film Festival" and operating Gaam Ghar News. He also promotes employment in Bihar through MithiBhog, producing traditional pickles and moringa powder. Currently, N Mandal is working on Hindi feature films and developing an OTT platform. Join his transformative journey in entertainment.
8)  Gopal Dash Baghel
Gopal Dash Baghel, also known as Gopal Dash, is a name that resonates with inspiration and achievement. With a diverse professional journey spanning accounting, auditing, and consultancy, Gopal has emerged as a true visionary. As the founder of the Council of College Sports Primer League in India  (CSPL), a government-recognized NGO, his vision is to revolutionize nationwide tournaments and international gaming events. Gopal's extensive experience, combined with his unwavering commitment to success, sets him apart from competitors. With a dynamic approach, a portfolio brimming with expertise, and a humble yet curious mindset, Gopal Dash stands as an influential personality leaving an indelible impact on the world.
9) Suman Nath
Suman Nath, a dynamic Life and Business Coach, Digital Marketing Expert, and Founder of DISRT INFOTECH PVT LTD, is an influential figure in the world of entrepreneurship. From humble beginnings, Suman has risen to great heights, driven by his unwavering commitment to success and his passion for helping others. With a holistic approach to coaching, Suman empowers individuals to unlock their full potential and achieve their dreams. His dedication to making a positive impact extends beyond his clients, as he actively supports charitable causes and serves as an inspiration to the Indian community. Suman Nath: an inspiring entrepreneur and a proud ambassador of his country.
10) Parth Bansal
Parth Bansal is a dynamic and influential entrepreneur transforming industries in 2023. As CEO of ToneOp-Health & Fitness App, he revolutionizes the health and fitness landscape by introducing a comprehensive platform enabling users to track their goals and access personalized diet plans. Simultaneously, as the MD of Bansal Group of Institutions, he sets exemplary educational standards and fosters an environment conducive to effective learning. Bansal News delivers high-quality and timely news coverage, while ToneOpEats provides healthy meals and ToneOp Care offers safe and effective supplements. Parth's visionary leadership, diverse portfolio, holistic approach, unwavering commitment, and profound social impact establish him as an influential personality at the forefront of change.
In 2023, these ten influential personal brands have demonstrated the power of personal branding and the ability to make a difference. By challenging conventions, advocating for change, and empowering others, they have set themselves apart as game-changers in their industries. Through their innovative ideas, exceptional leadership, and unwavering commitment, they are shaping the future and leaving a lasting impact.
These influential individuals will continue to inspire and pave the way for others to follow. Keep an eye on these ten personal brands, as they are at the forefront of transformative change, redefining success, and making a significant difference in the world.
If you have any objection to this press release content, kindly contact pr.error.rectification@gmail.com to notify us. We will respond and rectify the situation in the next 24 hours.